TAUPLITZ AUSTRIA #10 anniversary edition
Tangoholiday Tauplitz
18 - 24 Juli 2021
www.tangomasterclass.com/tauplitz
Register for Tango Tauplitz 2020 at info@mariano-cosima.com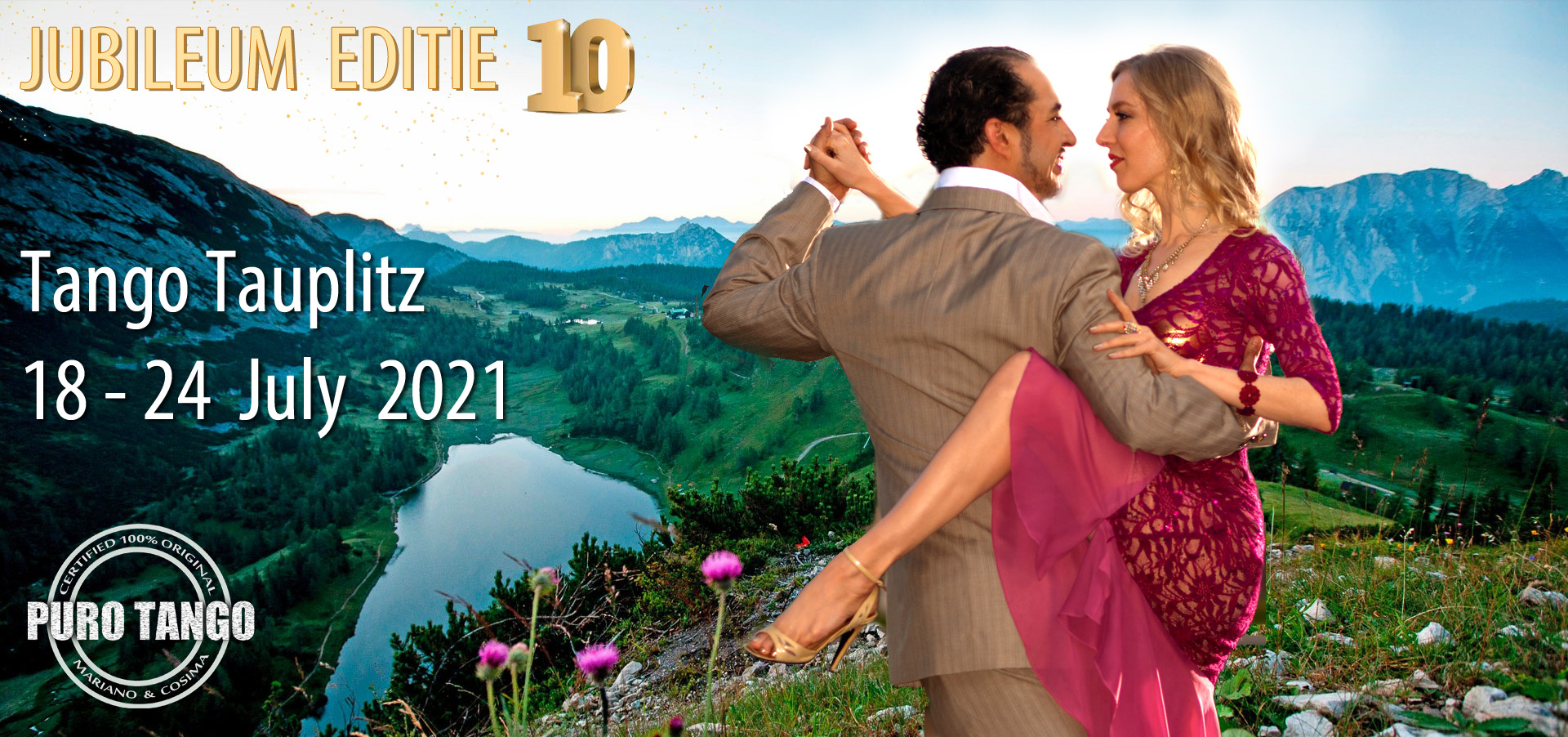 Dream holiday: tango & nature!

In 2021 we celebrate the 10th anniversary of our Tango holiday in Tauplitz, the nr. 1 hiking village of Austria, Tauplitz. The beautiful hotel Sonnenuhr, with fantastic views over valley and mountains, features comfortable hotelrooms, a sun terrace and a sauna. The hotel is not far from the swimming pool, and is situated close to the entrance of the Bergbahn to the Tauplitzeralm. We dance in the spacious dance hall with wooden floor. The tangoholiday includes overnight stays with breakfast and four-course-dinner, every day tangoclasses by professional dance couple Mariano & Cosima, every night a lively salons.

This destination is a favourite for many dancers.


Nature park Salzkammergut
Salzkammergut is one of the moste beautiful nature parks of Austria. With it's scented flower meadows, majestic mountains, enchanting forrests and deepblue lakes, it's a real treasure for nature lovers. It is perfect for hiking- and cycling tours. At night it is so dark you can see the Milky Way. Beside all this beauty of nature, there are many cultural attractions. Salzkammergut borders with Steiermark and Salzburg.


Wooden dance floor
The wooden floor is a real treat for your feet. We have this 400 square meter dance floor 24/7 available for all our classes, parties and practica's.


Hotel | Breakfast | Dinner
The accommodation is pittoresquely situated, with beautiful views and enchanting nature. The hotel is reserved only for tango dancers. See picture on the right above. All hotelrooms are recently renovated. The rooms are spacious and quiet. We have breakfast in the hotel. We dine with the whole tango group at the restaurant near the dance hall. Everyday a four-course menu is served: starter extensive and fresh salad bar with local vegetables - soup - main dish with daily choice meat/fish/vegetarian - desert.


Tango
Every morning and afternoon we offer an intensive tango - milonga - or vals - workshop. Every night vivid milongas. At daytime you have enough leisure time to enjoy the wonderful nature, fresh air and calm relaxing atmoshpere.


Leisure Time
Enjoy a wellness day at the nearby spa. Or walk one of the beautiful 7-lakes hiking-tours of the Salzkammergut. Or choose from the many cultural and historical excursions in the area.


Teachers
Mariano & Cosima Diaz Campos.
Tango dancers, classical Argentine Style. Experience since 1991 (Mariano) and 2001 (Cosima). Teaching Languages: English, Argentine, German, Dutch. Since 2003 Mariano and Cosima organize tango travells in Europe and Argentina.


Journey
We choose to book from Sunday to Sunday, because this is the most quiet day to travell on the highway. The hotel in Tauplitz is easy to access by car or motor. Taking a Train is also possible, there is a station in Tauplitz. You can also take a plane to Salzburg and then with the bus to Tauplitz.
Bookings open Tauplitz Tangoholiday
COSTS TANGO TAUPLITZ
Total price tangoholiday: 650 euro per person
* included stay in hotelroom with private bathroom in Hotel Sonnenuhr
* included breakfast in Hotel Sonnenuhr
* included 4-course dinner in Restaurant Seebacherhof
* included complete tangoprogramme (workshops, prácticas, milongas)
Room allocation in order of booking.
Single rooms limited availability (surcharge 12 Euro p.p. per night).
We recommend a cancellation insurance.

MAESTROS
Your teachers this tangoholiday are Mariano y Cosima Díaz Campos. Mariano was born in Buenos Aires, and raised in a tango family. He transmits the cultural heritage from a family of tangodancers. His grandfather used to organize milongas in his home town, his mother was the pioneer of tango in Holland, and passed the legacy to her son. Mariano & Cosima met in 2001, and trained intensively in Buenos Aires with renowned maestros. Their style is classical and Argentine. Cosima brought to the couple and to the teaching her experience in music in general and in tango music in particular (she studied Argentine Tango violin in Rotterdam in 1996-1997), and her knowledge in healthy movements and postures (she graduated as an excercise-therapist in 2001, and as a physiotherapist in 2004).
Mariano & Cosima are dedicated teachers, and their classes are appreciated by students for their effective methodology. The couple knows how to work intensively with a group, yet create a light, fun and relaxed atmosphere. They guarantee a good balance between explanation and time to practice and a good alternation between group dynamics and individual feedback. They know how to connect technique with feeling, and they focus on the essence of tango in their classes. They give subtle and accurate corrections that make every students grow fast.
Most important aspects in teaching are:

healthy movements, relaxed energy, full feeling of the body;
quality of movement, connection and musicality.


REGISTRATION
You can register by sending us an e-mail with the following information:
name
e-mailadress
postal address
telephone number
birthday
If you have questions before you register, or you want to place an option, please contact us at:
info@mariano-cosima.com
Thank you very much!
Mariano y Cosima